Super Saver
Recipes
https://www2.super-saver.com/Recipes/Detail/6087/Barbecued_Pork_Shoulder_with_Grilled_California_Peaches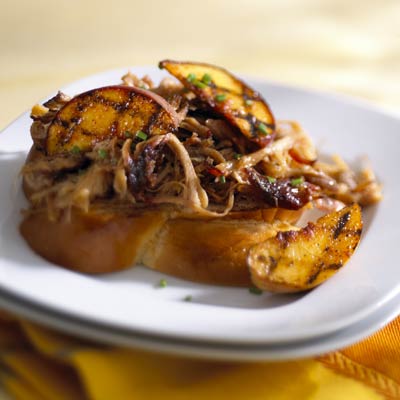 Barbecued Pork Shoulder with Grilled California Peaches
Yield: 10 servings
Ingredients
Pork Injection:

1
cup

peach nectar

1/2
cup

water

2
Tablespoons

sea salt

2
Tablespoons

dark brown sugar

1
teaspoon

Worcestershire sauce

1

(8 pound) bone in Boston butt (pork shoulder roast)

Spice Rub:

2
Tablespoons

peach flavored gelatin powder

2
Tablespoons

dark brown sugar

2
Tablespoons

sweet paprika

2
Tablespoons

ancho chile powder

1
Tablespoon

garlic powder

1
teaspoon

sea salt

1
teaspoon

Old Bay Seasoning

1
teaspoon

cayenne pepper

Barbecue Spray:

1
cup

peach nectar

1
cup

apple juice

1
cup

water

Peach Preserve Glaze:

1
cup

peach preserves

2
Tablespoons

cider vinegar

1/4
cup

water

Grilled California Peaches:

6

ripe California peaches, cut into wedges

1/2
cup

peach flavored gelatin powder

1
Tablespoon

molasses

1/2
teaspoon

cayenne pepper

Aged balsamic vinegar

Brioche Toast:

12
slices

brioche

2
Tablespoons

softened butter

Sea salt to taste

Garnish with finely chopped fresh chives
Add To

Directions:
Bring all injection ingredients to a boil in a small saucepan; reduce heat and simmer until dry ingredients are dissolved. Let cool to room temperature. Inject mixture into pork, being careful to distribute all the liquid. Cover and refrigerate for 2 hours.

Stir together all spice rub ingredients in a small bowl and sprinkle over surface of pork. Pour barbecue spray ingredients into a spray bottle.

Place pork on a preheated 250 degree F. grill with peach wood or hickory chunks. Cook for about 5 hours or until pork reaches 165 degrees F. internally, spraying every hour with barbecue spray.

Remove from grill and place in the center of a large sheet of heavy duty foil; shape foil into a bowl around pork. Pour 1/2 cup barbecue spray over meat; cover with foil and seal tightly. Place back on grill and cook for about 4 hours or until meat reaches 195 degrees F. internally.

Carefully remove pork from foil and place directly on grill. Glaze with peach preserve mixture and cook until shiny and caramelized. Remove from grill and shred using two forks, then moisten with any remaining peach glaze. Set aside and keep warm.

Meanwhile, stir together peach gelatin and cayenne pepper. Dip peach wedges into mixture and let stand to dissolve. Cook on a well-oiled grill until well-marked and tender. Brush with molasses and remove from grill; drizzle with balsamic vinegar.

Spread brioche slices with butter and cook on a sheet of heavy-duty foil placed directly on the grill to form a "griddle." Toast both sides of bread over medium heat, then season with salt.

To serve, place serving of pork on top of brioche. Top with grilled peaches and sprinkle with chives.
Developed by Chef Adam Perry Lang, Daisy May's BBQ in New York City for the California Tree Fruit Agreement.

Courtesy of California Tree Fruit Agreement

Please note that some ingredients and brands may not be available in every store.
Super Saver
Recipes
https://www2.super-saver.com/Recipes/Detail/6087/Barbecued_Pork_Shoulder_with_Grilled_California_Peaches